Golf Thrives in Lake Tahoe
Add Lake Tahoe To Your 2020 and 2021 Bucket List
By Phil Stambaugh
Despite under double-digit unemployment figures and prospects of a national economic rebound appearing questionable as the coronavirus pandemic continues, the golf industry as a whole around the greater Lake Tahoe area, surprisingly, has fared well. So good, in fact, that several properties are already reaching record numbers with the first sign of snow still more than a few months away.

After the stock market suffered a rout in March due to the economic standstill, many thought that signaled a troubling time for those at Lake Tahoe. In an area which thrives on tourism and attracts a major number of visitors from both California and Nevada, serious concern was anticipated for the local economy. And while the impacts from COVID-19 have affected hotels and restaurants, most public, private and resort golf courses and real estate developments connected to the sport at Lake Tahoe have experienced a surprising boon.

The Tahoe Mountain Club, located in historic Truckee, California, near Lake Tahoe's north shore, is a world-class, four-season resort featuring real estate options. Tahoe Mountain Club provides families with a host of activities including mountain golf in the summer at both of its highly-rated courses, Old Greenwood, the recent host for the PGA Tour's Barracuda Championship, and Gray's Crossing. The high-end resort has contributed to transforming a once-sleepy and unique ski town into a starting point for year-round adventure.

"Rounds at Old Greenwood and Gray's Crossing are up more than 30 percent. We have seen a significant increase in midweek play throughout the summer," said Brian Helm, the principal of Paradigm 8 Partners, the owners of Tahoe Mountain Club.

The company's properties have also seen a strong increase in real estate sales within the Old Greenwood Community, as Bay Area and Sacramento buyers are now seeking second home options in the North Lake Tahoe region. Paradigm 8 is currently working on new single family and townhome offerings within Old Greenwood for release later this fall.

"We have had an incredible season since April 20, when Placer County allowed us to fully open Old Brockway, with strict 'COVID-19 Protocol' in place," said Lane Lewis, the third-generation owner of one of the most historic and popular nine-hole, daily-fee courses in the United States located on Lake Tahoe's North Shore in Kings Beach, California. "We started out not knowing if we would have any golf season and then being forced to change our operation due to COVID-19 guidelines has actually impacted business favorably."

In his 39 years in the golf business, Lewis has never before seen the numbers he has done this year and rounds played at Old Brockway in 2020 are up almost 70 percent compared to 2019.

He attributes the record figures thus far to several factors: 1) outstanding golf course conditioning; 2) the natural social distancing aspect of golf and its reassuring safety appeal; 3) by reducing the overall tee-time schedule by 33 percent, Lewis helped create more demand for tee times and changing from 8- to 12-minute intervals between times allowed for more efficiency and better pace of play. He also required all reservations be made online which made it easier on his staff.

Lewis also mentioned that 70 percent of the homes on the north shore of Lake Tahoe are second homes. Rather than returning to their primary residences in urban areas throughout Northern California, many families are choosing to stay in the area and work remotely as their kids attend school online. Golf has proven to be a primary leisure option.

Clear Creek Tahoe, an upscale private community overlooking the Carson Valley just 20 minutes from Lake Tahoe, features one of the top courses in Nevada, a Crenshaw & Coore design that has already garnered national awards. The obvious tax benefits of living in Nevada combined with a "virtual" lifestyle option now has many California residents relocating.

"Our numbers are changing on a daily basis with extraordinary activity," said Leisha Ehlert, Vice President, Asset Management & Development, Castle Hill Partners, the principal behind the Clear Creek Tahoe project.

Through the end of August, Clear Creek Tahoe has sold 151 homesites, more than 75 percent of the property, with more than half in design or under construction. Another 38 homesites or homes are in escrow.

"The vision is to create lifetime memories connecting family, community and nature - and a better balance between home and work. It's all about nature leading, year-round adventure, privacy, 10 minutes to essential conveniences and healthcare - miles from everyone, minutes to everything. There are tax advantages, bespoke amenities and amazing programming," Ehlert said.

While California tax rates are nearly the highest in the country, Nevada has no state income, business or inheritance tax. Proximity to Lake Tahoe casinos offers a lineup of top entertainment and nightlife. In addition to golf, Tahoe is a major winter destination with 14 nearby ski resorts.

Edgewood Tahoe, located on the south shore of Lake Tahoe, is now recognized as a luxury resort destination and despite the pandemic, occupancy at the Lodge has increased while the number of golf rounds has soared 22 percent through July compared with last year's numbers.

The annual host of the American Century Celebrity Championship for 31 years, Edgewood Tahoe has been able to maintain its travel business during the summer, and Siobhan Fajayan, Director of Marketing & Sales, expects the trend to continue into the fall season.

"Fall in Tahoe is definitely my favorite season and we are continuing to offer a Stay & Play package that allows for the public to experience both the Lodge and Golf Course through October 10," said Fajayan.

This follows a national trend where golf equipment sales, according to Golf Datatech, LLC, reached their high point during July, surpassing numbers from nearly 25 years ago, and rounds played will match or exceed 2019 despite spring issues.

Even in these uncertain times, it's clear the golf business is alive and well also on Lake Tahoe, continuing to thrive amid adversity. Whether it's the nature of the game of golf or the desire for people to get out and travel, Tahoe's world-class outdoor recreation and activities, access by car, beauty of the area and the overall quality of the courses have made the game in this part of the High Sierra during the summer of 2020 reflective of the national surge in popularity.
Revised: 08/23/2020 - Article Viewed 11,506 Times
About: Phil Stambaugh
---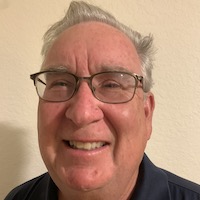 Phil Stambaugh was a long-time media relations official with the PGA Tour. He now teaches Sports Communications as an adjunct professor at Flagler College and is a free-lance golf writer, having been featured in several publications.

Stambaugh earned his undergraduate degree in public relations from the University of Florida and his master's degree in Sports Administration from Ohio University's esteemed graduate program.

He had stints in the NBA and college athletics and had communications roles at a Summer Olympics, NCAA basketball tournament, Super Bowl and Gator Bowl game.
---
More Articles by Phil Stambaugh