Breakthrough Golf Technology
- Putter Shafts Without a Twist
By David Theoret
Barney Adams, the founder of Adams Golf, has always had a unique ability to find his niche in the golf equipment industry. After all, what golfer can forget the Adams Tight Lies fairway wood, a club that was clearly ahead of its time and set the benchmark of fairway wood technology for years to come. Just about anyone who played the game in the mid 90's has owned at least one.

Adams has discovered something that has been status quo in the golf equipment industry for over 50 years: the putter shaft. All this time, it has been a steel tube, sometimes straight, sometimes with a few bends, but for the most part, it has remained unchanged. Until now!

At first you may not consider this to be a piece of equipment that can adversely affect your game; no one I know is looking to increase the swing speed of their putter. But Adams sees golf technology through a different pair of glasses and is focused more on the scientific aspects such as torque and rotation of the putter shaft at impact. Hence, his new company, Breakthrough Golf Technology, has created the Stability Shaft, the ultimate in putter shafts.

Putters have evolved over the years; the heads have gotten heavier and a lot larger as have the grips. This counterbalancing effect has resulted in shafts that are not strong or stable enough to keep these technologically advanced putter heads from twisting and turning. While you may not see or feel it when you make your putting stroke, believe me, it's going on. Furthermore, the strongest part of the putter shaft is just below the hands, which is about the most ineffective place for it; while the weakest part is near the club head. Since golfers use their putter almost twice as much as any other club, shouldn't you want to optimize its performance with the best available shaft technology?

There are four components of the Stability Shaft that work together to greatly improve putting performance. The company refers to this as "Advanced Materials Integration."

• Eight layers of high modulus carbon fiber are specifically layered, wrapped and widened, with a no-taper design which reduces torque.
• A lightweight 22g aluminum insert was developed through Breakthrough Technology's 'Finite Element Analysis" and is strategically located to reinforce flexural rigidity.
• A 7075-aluminum connector not only helps to stiffen and reinforce the Stability Shaft, it produces incredible versatility and allows the shaft to attach easily to just about any putter tip diameter, regardless of the bend profile.
• The wall thickness of the stainless-steel tips is extremely consistent, creating superior strength. They're coated with a smoke PVD finish which adds protection from rusting and corrosion.

Since golf professionals are, for the most part, above average putters, the Stability Shaft is aimed at the amateur golf market. The $200 price tag for a putter shaft may be a deterrent for those who see value in the product but can't justify the investment. That makes the Stability Shaft a very niche product in a very niche market: the serious amateur golfer.

A shaft in this price range is going to have to prove itself, so Breakthrough Golf Technology put it through extensive testing. This consisted of hundreds of putters and the use of state-of-the-art high-speed cameras and robots, as well as the SAM Putt Lab, Trackman4 and Quintic Ball Roll software. The results were a face that was delivered more squarely at impact for improved accuracy, solid feel and lower launch. This created more predictable roll and better distance control.

Recently, two of the largest clubfitting companies in the US - True Spec Golf and Club Champion - have reached an agreement to distribute Breakthrough Golf Technology's new Stability putter shaft. If you're interested in learning more about Breakthrough Golf Technology and their new Stability Shaft, visit them online at www.breakthroughgolftech.com. Watch some of the videos and you'll get a better idea of what is really going on with your putter.

Article Tags: Putter, golf shafts, premium golf shafts, putter shafts, Barney Adams, Stability Shafts, Breakthrough Golf Technology
Revised: 09/19/2018 - Article Viewed 11,213 Times
About: David Theoret
---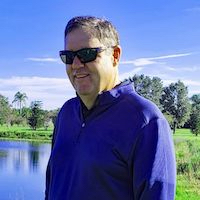 David Theoret has been in the golf and golf travel industry for over 10 years, primarily selling online advertising. For the past seven years, he has also been a golf writer, reviewing golf courses, resorts, destinations, equipment, golf apparel, and training aids - the latter of which never seems to help. David's articles and reviews have been posted on many golf travel and equipment websites.

Growing up in Southwestern Ontario, Canada, it was naturally assumed he would play hockey. Beginning at the age of 3 and continuing into his late 30's, he did just that. However, after one too many pucks to the head, he realized that golf was a lot easier on the body (whoever said hockey players were slow) and took the game up.

After moving to Florida and accepting a position with TravelGolf Media (now part of GolfNow) his love for the game grew exponentially. Most Saturdays you will find him on a course somewhere in Florida or on the practice range reinforcing his bad habits. David plays to a 10 handicap - unless there is money involved in which case it goes considerably higher. He currently resides in Lakeland, FL with his wife Belinda and their two "kids", Madyson and Molly.

---
More Articles by David Theoret