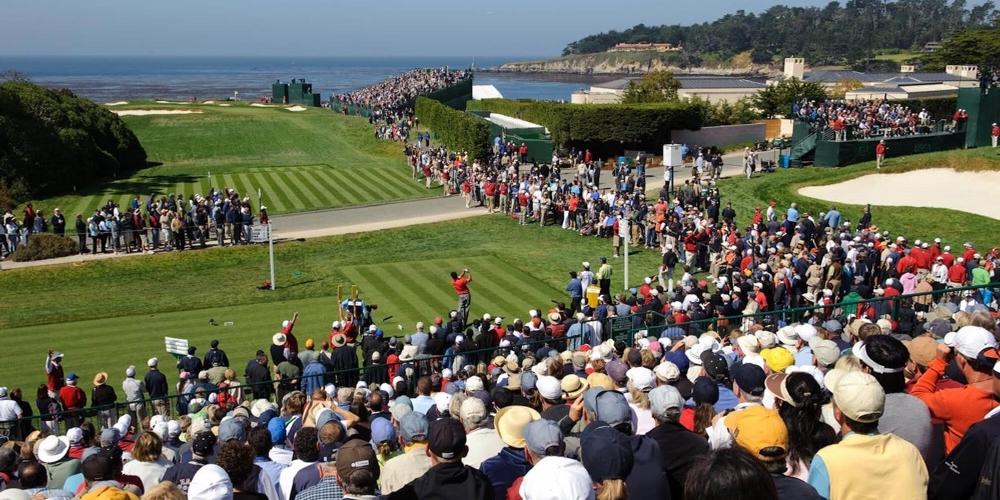 A visit to the 119th US Open and World Golf Hall Of Fame Induction Ceremony
By Barry Lotz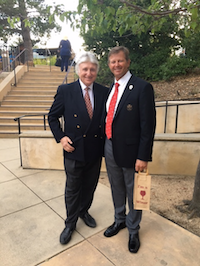 Known Facts:
Pebble Beach - the mention of these two words are sweet music to golfers around the world and the mention of a US Open further conjures thoughts of class, elegance, and excitement for these premier events.

For one week each year, the pursuit of the famous US Open trophy is the focus of the sporting world, followed globally by millions of fans.
The 17-Mile drive is a bucket list item.

The World Golf Hall of Fame is a pinnacle of achievement and acknowledgement for golfers and the golf industry. The Sunset Center in Carmel-By-The-Sea was the venue.

Now combine Pebble Beach, US Open and add in a World Golf Hall of Fame induction and voila, you have the hardest ticket in town, no country, to find.

Receiving an invitation by an inductee, Retief Goosen, together with press credentials and player support credentials, is an honor and a privilege.

This year the fabled course on the Monterey Peninsula, celebrated its centennial. Pebble Beach has hosted five previous U.S. Opens, four U.S. Amateurs and two U.S. Women's Amateur Championships.

Pebble Beach will also host the 2023 U.S. Women's Open and 2027 U.S. Open Championship again.

The induction is now every other year and coincides with big golf events -- the U.S. Open at Pebble Beach in this case. There were 28 Hall of Fame members in the audience, many of them U.S. Open champions who were honored at a dinner later that week.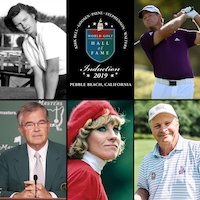 Shown in picture, the class of 2019 inductees were Peggy Kirk Bell - Lifetime Achievement Category, Retief Goosen - Male Competitor Category, Billy Payne - Lifetime Achievement Group, Jan Stephenson - Female Competitor Category, and Dennis Walters - Lifetime Achievement Category.

The induction brings the World Golf Hall of Fame to 160 members. The final selection is by a 16-member panel, the majority golf administrators.

Highlights of the induction ceremony were comments by the inductees, such as those by Retief Goosen regarding his lightning strike incident, "The lightning sparked something in me," Goosen said with a wry smile.

Dennis Walters quipped - "Can you believe I'm in the World Golf Hall of Fame before Tiger Woods?"

Jan Stephenson was part of what she described as "the most competitive and colorful era" for the LPGA Tour, and several others from her generation -- from Beth Daniel to Meg Mallon, from Juli Inkster to Pat Bradley -- are in the Hall of Fame and watched from the audience.

Peggy Kirk Bell was the only posthumous inductee from this year's class.

From Billy Payne, past chairman of Augusta National Golf Club, "Unlike all of my fellow inductees, I know that I am the outlier here tonight," Payne said. "So let's be clear. It is Augusta National Golf Club that is being honored here tonight. It is the celebration of our efforts to help grow the game."

Kudos need to be attributed to the USGA. Unlike previous US Opens, criticism was non-existent this year, rather compliments were the order of the day.

Having been to numerous US Opens, as both an instructor and media member, this year the total setup, from the course itself, spectator access to the course and parking availability, to the practice range and practice putting greens, to the administration and player compounds, were all exceptionally user friendly. This was one of the best organized tournaments I have personally attended.

Saying the tournament itself was exciting, would be an understatement. Locked in a back-nine duel with two-time defending U.S. Open champion Brooks Koepka, Gary Woodland pulled away with a trio of heroic shots to win his first Major.



Revised: 07/16/2019 - Article Viewed 9,715 Times - View Course Profile

About: Barry Lotz
---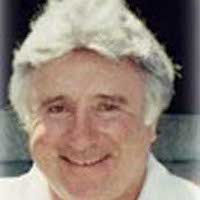 Barry Lotz, J.D., Ph.D. is the director of the Professional Golf Teachers Association of America. Visit www/facebook.com/PGTAA to see all the latest mental strategies and equipment reviews. He is a member of the Golf Writers Association of America and serves both as a Consultant and Mediator to the golf industry. He is also the author of numerous books, including "333 Best Web Sites for Golfers" and his previous book, "How to Build Business Relationships through Golf", is still considered the primary reference for golf businesses. His latest book, "The Right Mind for Golf", is now in its 9th reprint is available on Amazon and at the Torrey Pines golf course. He also has as many as 14 PGA Tour members availing themselves to his mental coaching and putting advice.

---
More Articles by Barry Lotz